If you're interested in technology (me!), and dislike cleaning (also me!), you've probably investigated robot vacuum cleaners. There are tons of models out there, covering a wide range of costs from under $100 to over $1,500. I'm not here to try to tell you which is the best, or even which particular one to buy, but to point out a time-limited sale on the one we chose to buy.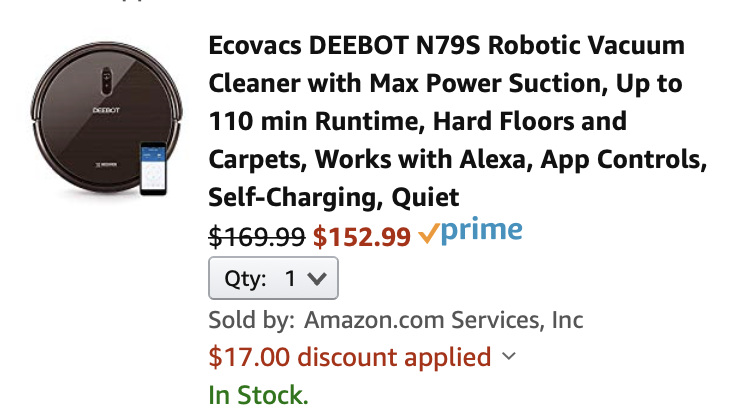 Back in May, we bought an Ecovacs Deebot N79S (Amazon)1This is a referral link; I make a modest commission if you use it. to clean our downstairs hardwood floors. I bought it mainly because it was on sale for a relatively inexpensive (for a robot vacuum) $150, and it received decent reviews on Amazon and on various review sites such as Wirecutter.
It's not the smartest robot—there's no ability to save a map or mark off "do not enter" areas. But I've found it cleans well, it's quiet, and the app does what it needs to do to make managing the vacuum about as easy as it can be. It's got a stated 110 minute battery life, and ours usually runs for at least 90 minutes, going over mainly hardwood with a couple of area rugs.
I noticed today that it's on sale again on Amazon for about $150—it shows as $170 in the store, but once in the cart, a $17 discount is applied, bringing it down to $153. We've been so happy with the first that I just ordered a second one to use upstairs (with two cats in the house, one cannot have enough vacuums).
I'm not sure how long this special price will last, nor if it's some sort of targeted thing where only certain shoppers get the deal, but if you're in the market for a decent yet not too costly robot vacuum, we've been very happy with ours.