Sorry it's been so quiet around here lately, but I've been doing a lot of big projects for Macworld. Last week, I wrote a series of articles on the new Intel Core Duo mini. I even wrote about why I'm sometimes SO DIMM, concerning a small (or not so small) mistake I made when purchasing RAM for the new mini.
This week, I took that same mini and turned it into a dual-booting OS X / Windows XP box, and detailed my experiences during the project. So that's why things have been a bit slow around here lately; after finishing up my daily duties, the fingers and brain have been too worn out to blog about some of the things on my mind. But this particular item was too good to ignore, so I worked on it last night and I'm posting it now for your enjoyment...there's even a bit of a tip in here, though not an OS X tip.
A couple weeks ago, we bought Disney's Lady and the Tramp DVD for our daughter. When I put it in for the first time, it was hard to miss Disney's new feature--Fast Play: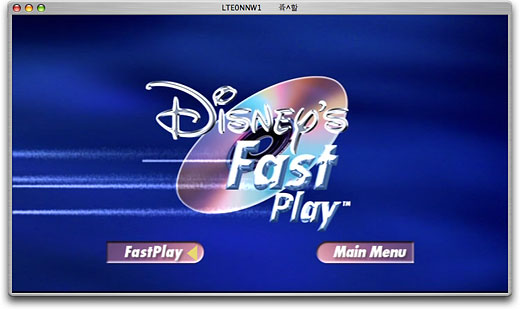 While you're looking at this pretty screen, whose buttons don't show up for several seconds, you're listening to the announcer say:
This Disney DVD is enhanced with Disney's Fast Play. Your movie and a selection of bonus features will begin automatically. To bypass Fast Play, select the Main Menu button at any time. Fast Play will begin in a moment...
My first thought was, wow, cool, a way to skip all that cruft they load our DVDs with nowadays?! Too cool! A not-so-quick experiment, however, proved my initial thought wrong...very, very wrong! Select Fast Play on Lady and the Tramp, and here's what you'll get:
Little Mermaid Special Edition DVD preview
Shaggy Dog movie preview
Chicken Little DVD preview
Brother Bear 2 movie preview (there was a Brother Bear 1?)
Airbuddies DVD preview
The Disney DVD "oooooh" splash screen and sound effects.
The Disney DVD Enhanced Home Theater Mix splash screen and sound effects.
Piracy warning #1 - general 'you are a thief and we don't trust you' message.
Piracy warning #2 - 'The FBI doesn't trust you either. We know you're stealing stuff.'
The movie!
Add it all up, and it takes roughly seven minutes and 10 seconds!! to go from the first time I saw anything onscreen to actually seeing the movie. Fast Play? They call that Fast Play? How long does the Slow Play alternative take to start the movie, three days?
I restarted the disc, and clicked the Main Menu button as soon as I could. From there, I chose Play Movie, then Widescreen. Next I got to see the two Disney splash screens and the two piracy screens, then the movie started. Total time required, only one minute and twenty seconds. But you can actually do better, much better, than that. And this tip works with pretty much every DVD I've tried it with.
After inserting a DVD, press the Menu button on your remote, or an onscreen button, whatever you can, to get to the Main Menu as quickly as possible. From there, click the Scene (or Chapter or whatever they choose to call it) Selection button. Then choose the first scene in the movie, which is almost always the opening credits. Then select your screen format (if necessary), and you're done. The movie will simply start playing. No Disney splash screens. No FBI warnings. Nothing but movie, the way things were meant to be.
For Lady and the Tramp, this process takes only 28 seconds, from initial screen activity to viewing the actual movie. Now that's what I call Fast Play!