In mid-2015, I decided I wanted to get rid of the mass of paper we'd been accumulating for years. Much of it could be recycled, but there was still a substantial stack of important yet rarely looked at paper that we needed to keep. If anything was ripe for a digitization project, it was this stack of paper. But there were thousands of pages to scan, and that's not something you're going to want to do on your $99 all-in-one printer/scanner/coffee maker.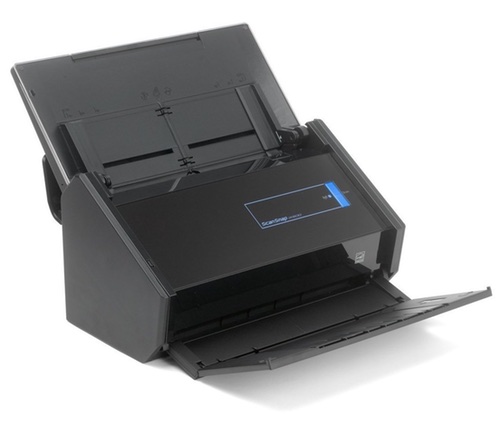 After talking with some people and reading some reviews, I bought a Fujitsu ScanSnap iX500 document scanner. This was not an inexpensive purchase—it lists for nearly $500, though typically sells for just over $400.
Note that there are two versions of this scanner: The PA03656-B005, which is what I have, and the newer PA03656-B305. The newer one is actually less expensive ($415 vs $490 as I write this), and apparently the sole difference is the bundled third-party software. I haven't seen the newer scanner's bundle, though, so I can't comment.
I've been using this scanner pretty much every day since October of 2015, and I can say it's one of the best pieces of hardware I've ever purchased. (The software is also very good, but the UI is far from lovely.) So far, I've scanned over 8,500 pages with this scanner, and I haven't had any issues with it at all. If you're interested in document scanning, read on for my thoughts on why this Fujitsu is an excellent tool for the task…
Design and build quality
The iX500 is designed to close when not in use—the sheet feeder folds down, the output tray folds up, and the whole thing becomes a relatively compact blob. My scanner is located just left of my iMac, and I keep it closed until I have something to scan. Here's how it looks when not in use (iPod touch for scale—sorry, I was out of bananas).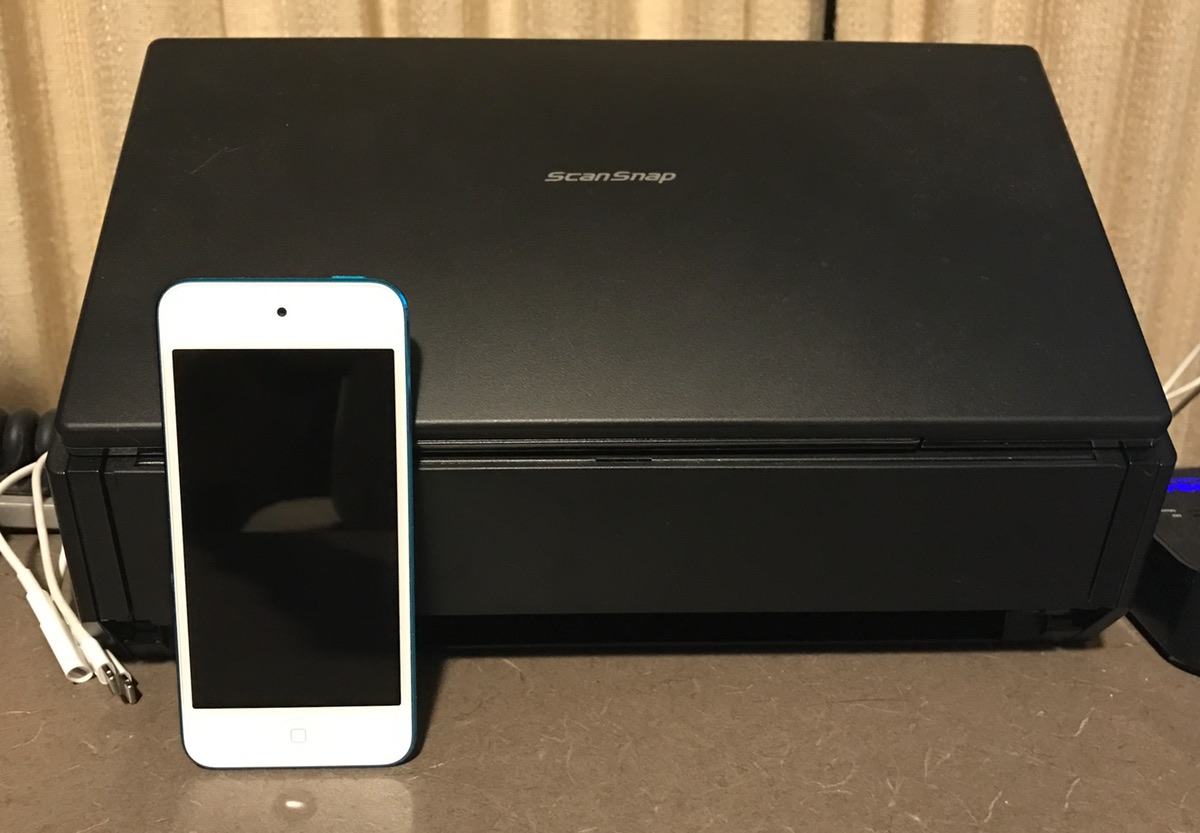 When fully opened, the output tray covers about half my desk, leaving plenty of room for whatever might be in front of it. While made of plastic, as you'd expect, the iX500 feels substantial, not cheap. I have opened and closed the top and bottom hinges hundreds of times, and they show no sign of wear, working as well now as they did when new. The sheet feeder, too, continues to function without a hitch. So while it's an expensive machine, it feels like the money has gone to good use in designing something that's going to last.
Speed
The iX500 is rated at 25 pages per minute for color scanning. I have no idea what speed I'm getting from the thing, but it's amazingly fast. Stack up to 50 sheets in the document feeder, hit the Scan button, and your source sheets will come flying through quicker than you'd expect. I have the scanner set to do OCR on the pages it scans, and even that is speedy, taking only a few seconds on my iMac for large text-intensive documents.
But it's not just the speed of the scanning that saves time. It's the getting started speed, too. Although the scanner includes document guides that you can narrow (for scanning receipts), I've found the machine works fine without touching them: I scan all widths of receipts without ever adjusting the guides. Just put the receipt in the scanner and hit Scan; I've not had one fail yet, even if they're quite crooked (the software does a great job at straightening them).
Fast scanning, fast OCR, and no time wasted during setup make scanning a large stack of paper about as painless as it can be.
Everything else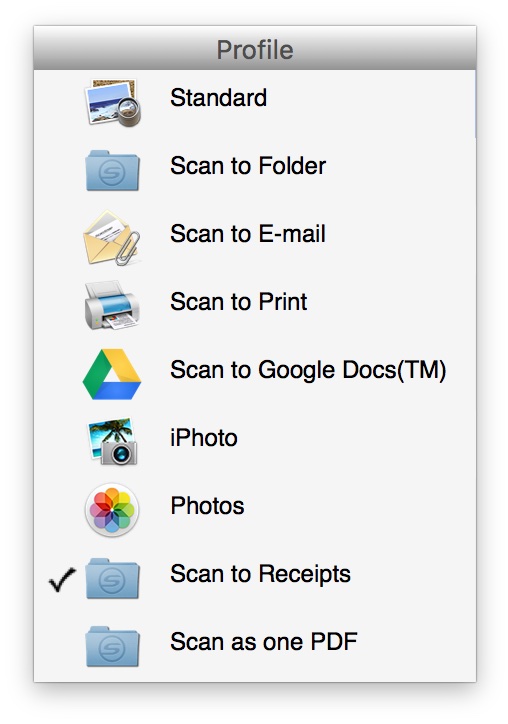 The iX500 will do double-sided scanning. It has a special app for receipts, if you want to use it (I don't). You can scan wirelessly, you can scan to the cloud ... there are all sorts of scanning options. You can use a pop-up menu to scan (as seen at right), or you can just have the software launch when you hit the Scan button (which is how I use it).
The settings portion of the ScanSnap software won't win any beauty contests, but there's lots of control over your scans. Define a format for save file names. Set the default location for scans. Specify image quality, color mode, rotation, and more. (However, these all have "automatic" settings, which is where I'd suggest leaving them.) You can even set the level of compression you'd like applied to your scans.
Once everything is set up, scanning a day's receipts is usually a few-seconds-long process. I flip open the scanner, drop a receipt into the machine, hit the Scan button, then rename the file when the scan is done (if necessary—I'll have more on the renaming bit in a future writeup). Repeat until the stack of receipts is gone.
I'll admit I was skeptical when I started this project. Skeptical about spending so much money on a scanner, skeptical about how well it would work, skeptical about the benefits. But now, 15 months in, I can't imagine not doing this. Our stack of paper has basically vanished, and all our papers exist in text-searchable electronic form (and are backed up in a number of ways, of course).
If you've been thinking about scanning a bunch of paper, I can't recommend the Fujitsu ScanSnap iX500 enough—it really is an amazing machine.