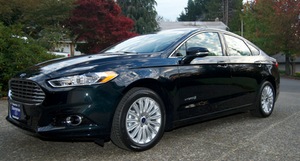 About a year ago, we were in the market for a new car. We wanted a roomy midsize car with good gas mileage, and lots of tech toys for me to play with. After much searching around, and too many test drives to count, we chose a new Ford Fusion Hybrid.
We don't drive so much that a hybrid makes economic sense, but I so despise Oregon's "can't pump your own gas" law that we went for the Fusion Hybrid's 47/47mpg rating (at the time we bought), and its expected 600ish mile range between fill-ups.
Our experience with the car has been nothing short of terrific—given I hadn't bought an American car in over 30 years, I've been very pleasantly surprised by the car's comfort, quietness, reliability and features. (More on our experiences with the car itself in a future post.)
Overall, our gas mileage has been great—we're usually around 40mpg in the city, and often over 47mpg on the highway. Our experience versus the EPA sticker didn't surprise us, as we've previously owned a hybrid (a Camry), and saw similar results. I also don't think I've ever hit the EPA numbers for any of my prior vehicles, hybrid or not. So while we weren't seeing 47/47, we weren't far off, and were quite happy with our mileage.
Which made the FedEx we received yesterday all that more surprising…
When I saw the envelope on the porch with the Ford Motor Company return address, my first thought— given recent news—was "oh geez, the Fusion's got a recall issue?"
Thankfully, no. But the letter did contain some very surprising news:
Ford Motor Company identified an error with the fuel economy ratings on the Fusion Hybrid, and notified the U.S. Environmental Protection Agency (EPA). Ford worked with the EPA as the agency retested the vehicle to determine the correct fuel economy ratings. The correct EPA estimated ratings for your vehicle are shown below.
The revised EPA ratings dropped from 47/47 to 44/41, which raised the expected annual fuel cost from $1,100 to $1,250, as seen on the revised sticker: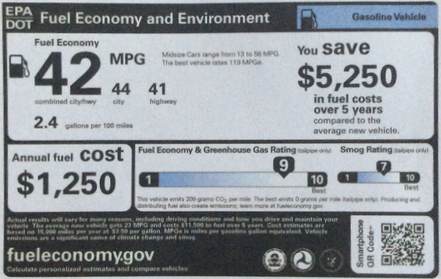 If that's all that had been in the letter, my response probably would have been "Huh, good to know, I guess." But the second paragraph of the letter made things more interesting:
We value you as a customer, and we want to continue to earn your trust. As a measure of goodwill, we would like to pay you for the estimated average fuel cost difference between the previous and revised combined miles-per-gallon estimate for your vehicle. Therefore, a check in the amount of $775.00 is enclosed with this letter.
That got my attention, for sure. Especially as we don't do a ton of driving—the check more than covered everything we've spent on gas for the car during its first year with us. (The annual fuel cost estimates are based on 15,000 miles per year; we've put just over 5,000 on the car so far.)
Note that Ford did this same thing last year, for a change in the C-Max Hybrid's EPA ratings. And apparently, this year's checks cover a range of hybrids, including our Fusion.
I appreciate Ford being proactive on this, especially as our car's real-world mileage hasn't been any worse than that of any other vehicle we've owned. But Ford knows a lot of people make a hybrid purchase decision based on the stated mileage, so they've voluntarily compensated owners for their expected additional gas costs.
So thank you, Ford, for doing the right thing without first being sued by buyers or being told to do so by the government.