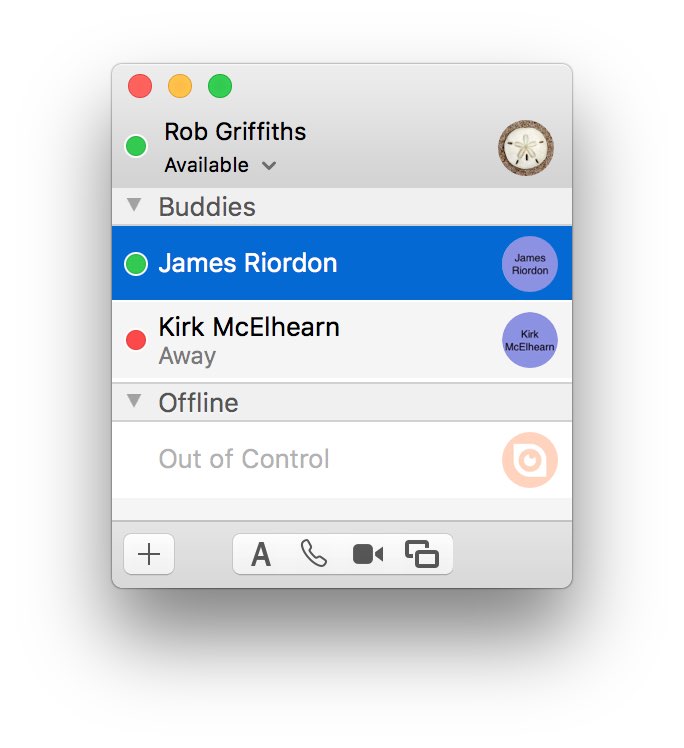 With the release of High Sierra, Apple removed the last vestiges of support for AOL's AIM protocol in Messages: You can no longer login to an AIM account. Yes, this is ancient tech. But it had one feature that a small group of my friends, family and coworkers relied on: The Buddy List window, as seen at right.
The buddy list was a great way to know if someone was available to chat or not—unlike Messages, which simply assumes that it's OK to text someone anytime. You could also customize the away message, to let someone know you're on the phone or you'll be back in 10 minutes or whatever.
As someone who works all day at my desk, the buddy list was a nice way to let friends and coworkers know when it's OK to talk and when I was busy. Also, I could keep these chats exclusive to my Mac, and not have them appear on all my devices, which was a nice benefit (no messages received when I didn't want to receive them).
Alas, High Sierra took that all away…or did it? It did not, as it turns out—the above screenshot was actually taken in High Sierra. The solution? Jabber, another ancient (but open source, unlike AIM; history) messaging protocol.
It turns out that Jabber is still supported in Messages, and the Jabber protocol supports a contact nee buddy list, with status messages. If you and your friends/coworkers are old school and want to use Messages with a buddy list, they'll just need to create Jabber accounts and then set them up in Messages.
Jabber is a non-centralized protocol, and there are tons of Jabber servers that you can use for your account. (Once you have an account, you can talk to anyone on any server, so it doesn't matter that your group is all on the same one.)
Dec 18 2017 update: At least here in the USA (and Canada), it appears that securejabber.me has gone away. So I used this list of Jabber servers—which is sortable by clicking any column heading—to pick a new provider with good history and security.
We decided to use securejabber.me, as it requires encryption (and even offers connections via the Tor network, if you're really privacy-minded). Here's a high-level how-to on getting Jabber set up in Messages in High Sierra…
Create a new account on your Jabber server of choice, and note the login details, like these for securejabber.me.

In Messages, open Prefs > Accounts, and click the plus sign to add a new account. This will show a dialog that looks like it's only for new Messages accounts…

…but it's really a generic account window. Enter the User Name and Paassword for your new Jabber account, and click Sign In.

Enter your password when prompted.

If the login didn't work (it may not, as you can't set any server info before cliking Sign In), check the Server Settings tab of the Accounts tab in Messages' prefs, and make sure the information there matches the connection details from step one.
And that's it—you should now have a Buddies entry in the Window menu in Messages. However, you won't have any buddies yet. To add buddies, open the Buddy window, click the plus sign at the bottom, and enter their Jabber handle. The user will get a request asking if it's OK for you to add them to your buddy list; assuming they say yes, they'll then show in the Buddies window. You can't do screen sharing, but you can paste screenshots, as well as transfer files.
You will have to login again each time you relaunch Messages, which is a bit of a pain—and made more so by an apparent bug in (something): You may have to enter your password more than once before the login works. I've found that, when this happens, if I hit Cancel on the password dialog then login again, it works on the first time.
I realize this is really Old School, and we should just get used to always-there messages, but the Buddy List gives us what we want and need: A quick visual indication that someone is there, and whether or not they're available for chat.