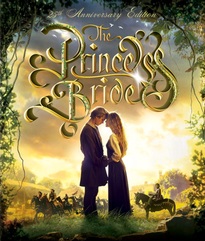 The Princess Bride (1987) tells the tale of a stable-boy-turned-pirate's journey to rescue the love of his life; it's based on the 1973 book of the same name.
The film touches on almost every subject imaginable, including pirates, princesses, sword fighting, adventure travel, large evil creatures, good guys and bad guys, true love, death, giants, and even logic-based drinking games. In short, this is not your average kids' fairy tale—and because it's not your average fairy tale, it's a very fun and interesting movie.
There are many wonderfully quotable lines and short tidbits of dialog (You may have heard the most-oft-repeated one: "Hello. My name is Inigo Montoya. You killed my father. Prepare to die." … but there are many others. I suggest you not visit that link until after you've seen the movie, though; there are many spoilers in that collection.)
The cast includes a number of faces you'll recognize, even if you don't recall their names—I found Mandy Patinkin, as the aforementioned Inigo Montoya, particularly entertaining. Cary Elwes, Chris Sarandon and even the late great André the Giant also do a fine job with their roles. Peter Falk narrates (I could listen to that voice all day), in his role as a grandfather telling this tale to his grandson, played by 11-year-old Fred Savage.
It's hard to describe everything you'll experience in this movie, but it's worth experiencing. So if you've been avoiding it (thinking perhaps it was just another kids' film), stop doing so, and give it a look. If you have seen it, but not lately, perhaps it's time to renew your acquaintance? That's what I did over the weekend, in fact.