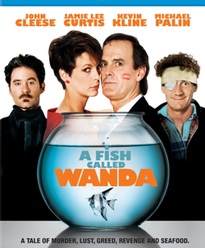 A Fish Called Wanda (1988) is an entertaining movie (wonderfully written by John Cleese) with an all-star cast (Cleese, Kevin Kline, Jamie Lee Curtis, Michael Palin). The movie starts with the gang pulling off a jewel heist, and from there, it quickly evolves into a tale of double-crossing and trickery as each member of the gang tries to outwit the other to steal the loot.
I won't go into the plot more than the above; it's more fun to watch when you don't have any idea what happens. I will add that the scene in the barrister's house involving the necklace is 15 minutes of pure comic mayhem. The cast all do a great job, but Kevin Kline really steals the show with his performance as, well, you'll have to watch.
One minor note: the humor here is clearly adult, so send the kiddies off to bed before starting the show.