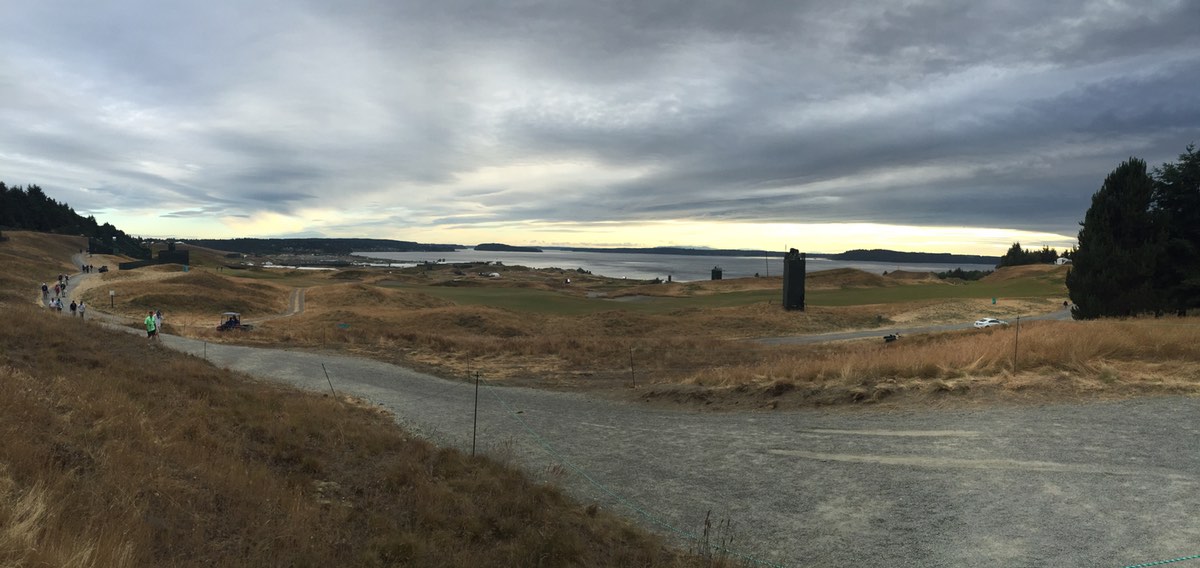 When I first heard—way back in 2011—that the US Open was coming to Chambers Bay golf course, located less than three hours from my home in Beaverton, Oregon, I knew I wanted to go. Having played the course (just once), I thought it'd be great fun to watch the pros play at the same place (though with a very different setup…and a very different skill set!)
After much planning and a year of waiting, we finally made the trek last Thursday. We arrived at the course at 7:00am, and didn't leave until after 8:00pm. Overall, it was an amazing experience—heck, I even got to hold the actual trophy during a backstage tour of the TV production facilities. (That was an amazing experience, and well worth the $10/year cost to belong to the USGA, even ignoring all the good stuff they do for the game.)
But having been there for Thursday, I was quite content to return home for the final rounds this weekend, watching on the big screen in high def. Why? Because as amazing as Chambers Bay is to both visit and play (if you're a golfer, it's well worth its outrageous cost), it's a terrible place to watch pro golfers play the game.
I'm not a huge attender of golf tournaments, mainly because there aren't a lot of big events in the Pacific northwest. But I've probably been to about a dozen or so, including the 2012 US Open at the Olympic Club in San Francisco.
Even at the best of courses (for attendees), the in-person experience is really bad if what you really want to do is watch the golf tournament. At best, you can follow two groups through all 18 holes, or watch all players play one or possibly two holes. Really, if you want to watch the tournament, stay home and watch it on TV.
With that said, attending is a great way to watch the best golfers in the world perform just feet away from where you're standing or sitting. Watching on TV also doesn't give you any sense for the details of the sport—the course's hills are flattened, winds aren't felt, sounds are filtered, and players' nerves are reduced to brief facial snapshots.
Going in person, crowding the fairway ropes and sitting near a green, you can often be mere feet from the best golfers in the world, watching them work. That experience is what I've most enjoyed at the tournaments I've gone to in the past…and that's what's entirely missing at Chambers Bay.
Breaking it down, there are really four things that I look for as a spectator at a tournament:
Amenities
Fairway Viewing
Tee Box and Green Viewing
Grandstand Viewing
Here's how I felt about each of these things at Chambers Bay…
Amenities
The USGA knows what they're doing, and spectators are treated relatively well—as well as one could hope for in a crowd of tens of thousands. There were plenty of restrooms, food for sale in many places, services for the disabled (which allowed my step-dad to see the event, as his bad back prevents him from walking very far), and lots of leaderboards and a huge video screen in the general admission area. There are maps everywhere, so it's hard to get lost, and if you need help, there are volunteers everywhere.
If you're a USGA member, there's even more, including a free backstage tour of the Fox production truck (amazing!), the chance to meet PGA tour pros on certain days, and a tent where you can relax away from the bustling crowds while keeping up with the event on TV.
Of course, if you're on the $450 (full-week access, including practice rounds) general admission ticket, you'll be eating (after waiting in a good-sized line) out in the open, anywhere you can find somewhere to sit. If it's hot, you'll be hunting for shade (hard to find at Chambers Bay, given they have but one tree!).
For some added expense ($700 for that same full-week package), the Trophy Club provides a large indoor dining area and patio that overlooks the course, along with a pre-paid parking permit for a lot that's smaller and closer-in than the large general admission lots.
If you're willing to spend a lot more money ($1875 for the week—OMG!), the 1895 Club gets you unlimited food and drink—and "access to executive restroom facilities"—in a very exclusive enclave.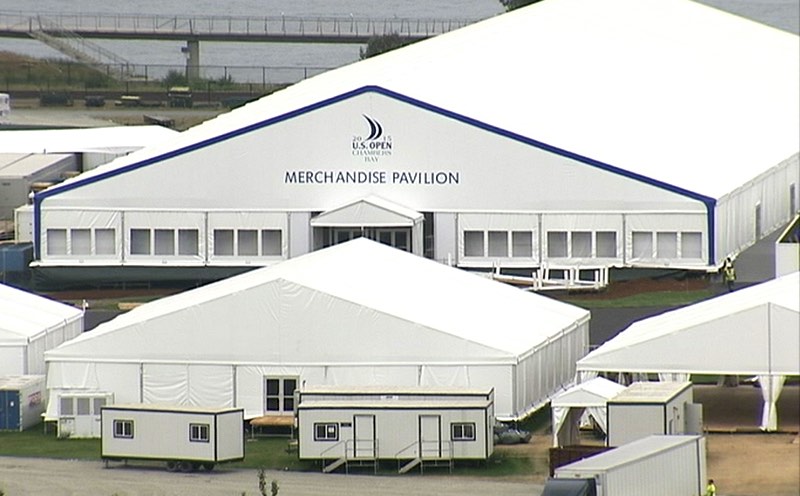 Finally, there's a Merchandise Pavilion—in case you haven't yet spent enough on admission and concessions—that dwarfs some Wal-Marts in size. (See the person in yellow at lower right for a sense of the size of that tent.)
If you want something with the US Open logo on it, you can find it here. (Of course, all the same stuff is available online, so you can avoid the need to attend the event to buy the goods. But what's the fun in that, when you could be waiting in massive lines for the right to buy something?)
Amenities grade: A
It's a huge event, and you'll never feel like you've been given one-on-one attention, but things are well run and there's lots to see and do.
Fairway Viewing
While the USGA does a great job with the amenities at Chambers Bay (and at all their events), they can't do anything about the physical layout of the course. And at Chambers Bay, that layout means that fairway viewing is generally abysmal.
Nearly every hole is bordered by a combination of thick fescue and hilly mounds; these features help define the shape of each hole, and punish golfers who stray offline. But they're also areas where organizers don't want fans standing.
Even in spots where these features don't interfere with fairway viewing, the topography of the course comes into play: it's incredibly hilly, and many spots simply aren't usable for fairway viewing due to the slope of the terrain.
Pan around this map of the course to get a sense for how unaccessible the fairways are; due to sand, mounds, and general slopes, there are very few spots where spectators are allowed to get right up close to the fairways. Out of the 18 holes, I believe there were only three fairways with large segments accessible to the fans; a few other fairways had very small spots where a lucky few people could be relatively close to the action.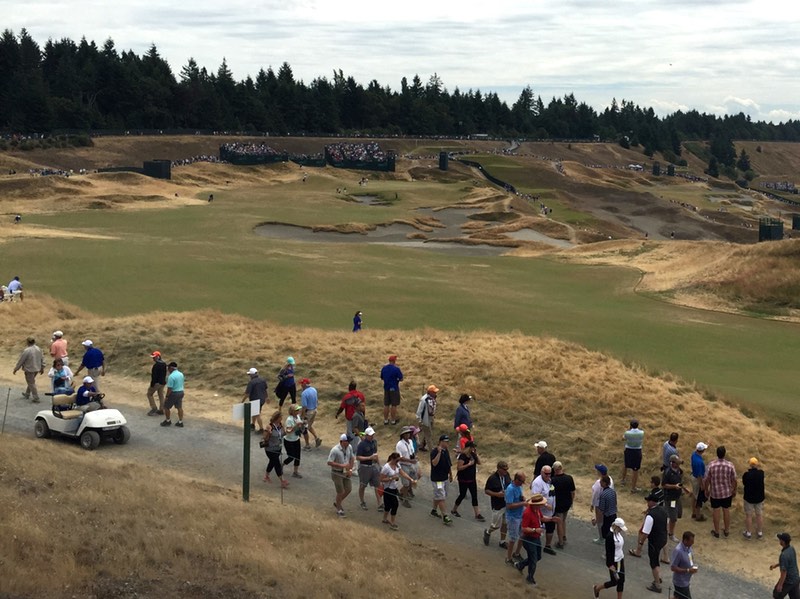 The photo at right is of a section of the 13th hole, showing the mounds that limit access to the fairway. Even though there are people quite close to the fairway in the foreground, this is nowhere near where the players play the hole—they tee off just to the right, and the landing area is way down by the trap on the right, where there's no way for the gallery to be anywhere nearby.
Even holes 16 and 17, which run along the railway and waterfront—and are bounded by a pathway near the tracks—are horrible for fairway viewing. Why? Because the path is about 10 feet below the course, so you can't see anything from the path. (A few times on this path, in fact, we were stopped and silenced by marshals, though we couldn't see who was hitting.)
This layout means that you wind up watching players and shots from far above, far away, or both. And really, if that's all you're going to see, you might as well stay at home and watch on TV.
Fairway Viewing grade: D-
The sixth and seventh fairways were the most accessible. Everything else was pretty much off limits.
Tee Box and Green Viewing
Even at courses where the fairways may have limited viewing, you can almost always line up near the tee boxes and greens to watch the players tee off and putt out. Not so at Chambers Bay. Out of 18 holes, I'd guess there were maybe five where you could stand (not sit in a grandstand) and be close enough to see the players teeing off or putting.
Again, this is due to the topography of the course, and the ever-present mounds and fescue. There are just very few greens and tee boxes that are reachable by foot, or that have anywhere to watch if you could reach the tee or green. Many greens and tee boxes did have grandstands (see next section), but as with fairway viewing, you wind up far above and far away from the action.
The first, tenth, and sixteenth tee boxes had places to stand and watch the players tee off; there may have been others, but they don't stick out in my mind, and it was clearly a minority of the holes where you could have this chance.
As for greens, there was a tiny standing area near the ninth and fifteenth, and probably a few others though I either didn't see them or don't remember them. Basically, if you wanted to watch the action on a green, you had to be sitting in a grandstand near that green.
Tee Box and Gren Viewing grade: D-
Very few tee boxes and greens are accessible to those walking; grandstands were the only option at most spots.
Grandstand Viewing
Chamber Bay's grandstands—especially those at 9 and 18—offer glorious views of one or two holes, but only in a "big picture" way. You're typically up above the hole, well away from the action, seeing everything from a distance.
With that said, the grandstands were nicely placed, and many offered incredible views of the course, given their location perched atop hills, or near the top of the course. The grandstands at the par three ninth, along with those behind the drivable par four 12th, were both incredibly popular. We arrived at the course at 7am, about an hour after the gates opened, and our shuttle let us off very near the 12th green. Even at that hour, though, the grandstand at 12 was nearly full—on the first day, just minutes after the first players teed off!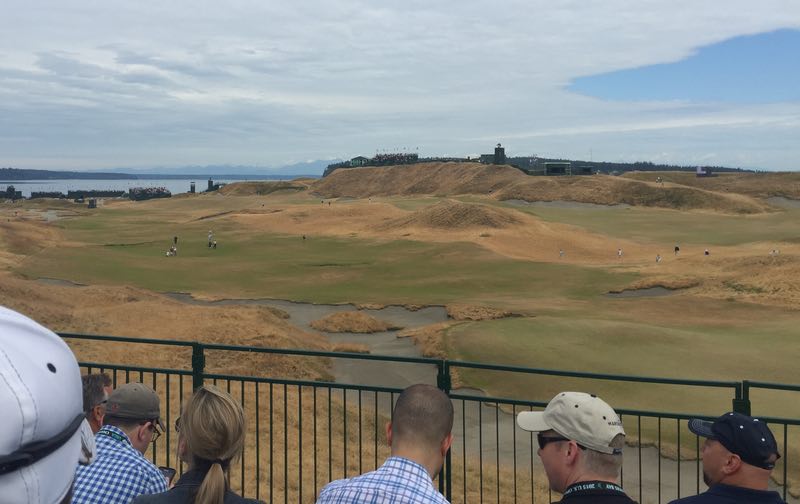 The shot at right (click for larger) was taken from the massive—6,000+ seats—grandstands on the 18th hole.
Sitting in the greenside section of these stands, we had a very good view of those putting. Further down the fairway, you could sit near where players' second shots landed (when laying up when 18 was playing as a par five). So viewing from these grandstands was quite good. I assume similar views were had in other grandstands, but we only tried a couple of them—mainly because the popular ones filled quickly, and had long lines to get in.
So if you wanted a good grandstand seat, you needed to pick your hole, arrive early, and then not leave. (They had a system on the 18th where you could get a ticket that would let you back in within 45 minutes, so you could leave and grab a lunch or potty break. I assume the other grandstands used the same system.)
But to me, it's really boring to sit in a grandstand for six or seven hours, watching group after group come through. If I want to sit in one spot and watch golf, I'll choose the recliner at home in front of the big screen TV!
Grandstand Viewing grade: B
Good viewing, albeit not close viewing, from many grandstands, but they filled up early.
Final Thoughts
Unless you like sitting in a grandstand all day, or wandering the course with only a rare chance to see your favorite golfers up close, Chambers Bay is just not a very good course at which to watch golfers play the game.
The very things that make it such a memorable place to play golf (hills, fescue rough, massive sand bunkers) make it a horrid place to watch golf.
Holes 8 and 12 demonstrate just how awful the viewing experience is at Chambers Bay. Hole 8—the long par five up on the hillside—has absolutely no spectators along the fairway or at the green. That's because it's built on the side of a hill, making it impossible to stand anywhere near the hole. There aren't even grandstands behind the green, so it's basically void of spectators (other than some near the tee box).
The only fairway/green viewing option is a top pathway, which must be at least 75 feet above and 50 to 100 feet back from the fairway and green. Watch it on TV to see, as it's just bizarre: It's like the golfers are at home at their country club, with nary a person in sight (other than the marshals and officials with each group).
The 12th—a drivable par four—is similarly inaccessible. It lies in a valley between steep hills (apparently it was the entrance road back when Chambers Bay was a gravel pit), making it nearly impossible to get any view of the tee box or fairway from anywhere other than the grandstands…which, as noted, filled up incredibly early.
I took a course map, and tried to mark up (using a red overlay) the spots where I recall being able to get close to the tee box, fairway, or green (without using the grandstands).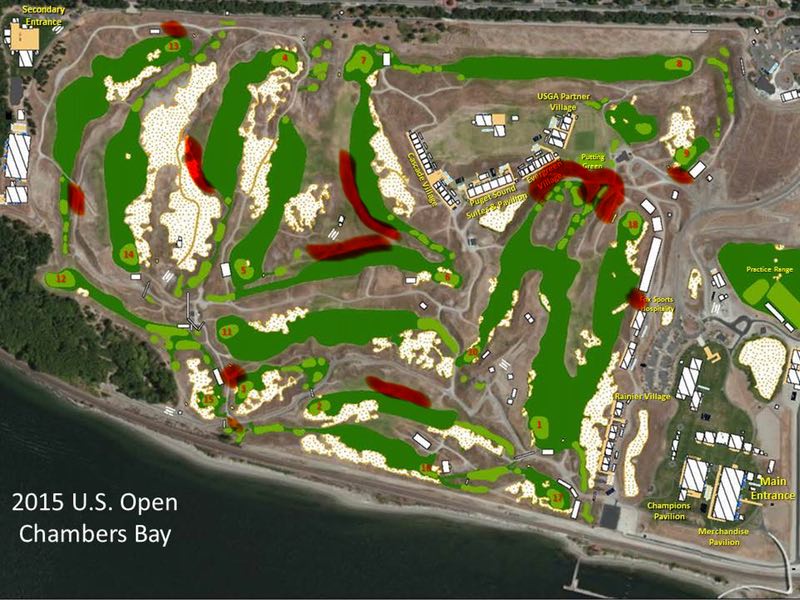 As you can see, there are not many spots to get close to the action. So while Chambers Bay is an amazing place to play, it's not such a great place to watch the pros play golf. The course's layout just makes it too difficult to see and follow the players during their rounds.
Is it worth going once? You bet, especially when it's the US Open and it's never before been in the Pacific northwest. I'm very glad I invested the time and money to do so—seeing (and hiking!) the hills in person really gives some context to what the pros are experiencing.
But once you've made that journey, my advice is to stay at home and enjoy the rest of the tournament on the television. You'll see more, and see more closely, than you'll ever be able to at the course…and you probably won't have to find a Porta Potty when nature calls!
Update
During Sunday's broadcast, Fox interviewed Thomas O'Toole, the current USGA President. He was asked specifically about improving spectator access to the course, and acknowledged that if they come back to Chambers Bay, they have work to do in this area. Good to know it's not just me!