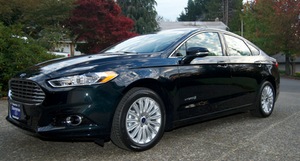 About a year ago, we were in the market for a new car. We wanted a roomy midsize car with good gas mileage, and lots of tech toys for me to play with. After much searching around, and too many test drives to count, we chose a new Ford Fusion Hybrid.
We don't drive so much that a hybrid makes economic sense, but I so despise Oregon's "can't pump your own gas" law that we went for the Fusion Hybrid's 47/47mpg rating (at the time we bought), and its expected 600ish mile range between fill-ups.
Our experience with the car has been nothing short of terrific—given I hadn't bought an American car in over 30 years, I've been very pleasantly surprised by the car's comfort, quietness, reliability and features. (More on our experiences with the car itself in a future post.)
Overall, our gas mileage has been great—we're usually around 40mpg in the city, and often over 47mpg on the highway. Our experience versus the EPA sticker didn't surprise us, as we've previously owned a hybrid (a Camry), and saw similar results. I also don't think I've ever hit the EPA numbers for any of my prior vehicles, hybrid or not. So while we weren't seeing 47/47, we weren't far off, and were quite happy with our mileage.
Which made the FedEx we received yesterday all that more surprising…