I received an email from a user this morning, asking if Name Mangler was compatible with Catalina, as he'd seen a report telling him it was 32-bit. This was an odd thing to read, because Name Mangler 3 has been 64-bit from the beginning, way back in 2013.
I asked what report he was looking at, and he told me it was from the Legacy Software tab in System Information. I decided to see what the report had to say about my machine, so I launched the app (Option-click the Apple icon in the menu bar), went to the Legacy Software tab, and saw this…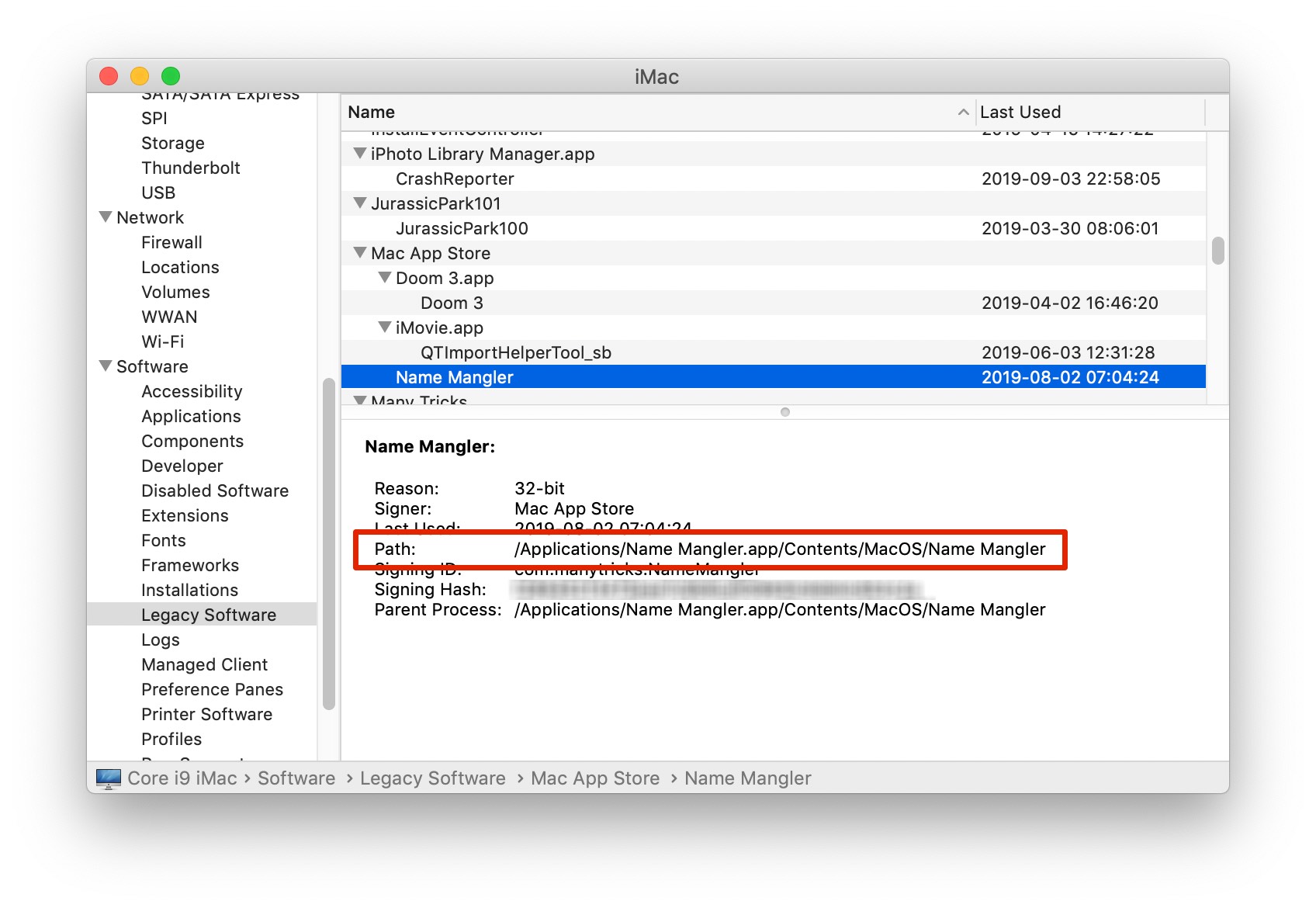 This entry for Name Mangler shows it as an App Store purchase (it's within the App Store category), which it probably was at some point in time (we occasionally buy our apps to make sure everything is working right with the App Store). But it's definitely not 32-bit code…even more puzzling, though, is this: There is no version of Name Mangler installed in the Applications folder (as shown in the Path line above):
Not only is System Information incorrect in stating that the app is 32-bit, it's reporting that state for an app that doesn't even exist! In glancing through my other supposed Legacy Apps, I found a couple of other oddities:
There's an entry for Install Adobe Acrobat Reader DC, which is listed on the path where disk images are mounted (/Volumes). I've confirmed there's no mounted disk image, and a look at the Volumes folder shows nothing there either.
There are entries for apps that I deleted—some recently, some months ago.
While the Legacy Apps tab in System Information does provide some useful information, it appears it's using some sort of out-of-date database of installed apps, and as such, the results may not be perfect. Double-check what you're seeing, and make sure it matches what's actually installed on your Mac.