First off, I'm calling this a semi-review, as I am not a big concertgoer, so I'm hardly qualified to be posting an actual concert review. This is especially true for big acts in larger venues, and even more so since the kids arrived (in 2003 and 2006).
In fact, before last night's Portland stop on Bruce Springsteen's The River tour, the last big show I saw was Bruce Springsteen on the E Street Band Reunion tour, back in the spring of 2000 (at this same venue, though in the Eucker seats). So yea, it'd been a while.
I am a long-time Springsteen fan, coming aboard with Born to Run, which was released when I was 11 years old (egads). While I own most of Springsteen's albums, I'd only seen him perform live three times prior to last night. But it was the memory of those performances that had us forking out $339.50 (plus the hassle/cost of finding a sitter for the kids) for two reasonably-decent seats to The River tour stop in Portland.
My memories of his prior concerts are of an eminent performer, able to connect with the audience even in a massive 75,000 seat football stadium, with boundless energy and the ability to make songs he'd played thousands of times seem fresh and new.
However, with Bruce now 66 years old, I wasn't really sure what to expect of last night—would it be the Bruce I remembered from years past, or would it be someone just trying to cash a paycheck by phoning it in?

I needn't have worried—this show was as good, as high-energy, and as long-lasting as any of the others I've seen. It was, in short, incredible.
The Performance
If I have half Bruce's energy and fitness level when I'm 66 years old, I'll be very happy. The show ran 3.5 hours, without an intermission, and barely slowed down at all during that time. Most songs transitioned directly from one to the next, with a quick guitar change the only interruption.
During all of this, Bruce was moving around the stage, as well as out into the floor (he must've grabbed at least 500 fans' hands last night), and at one point, he even surfed the crowd back to the stage—that's him in the spotlit area: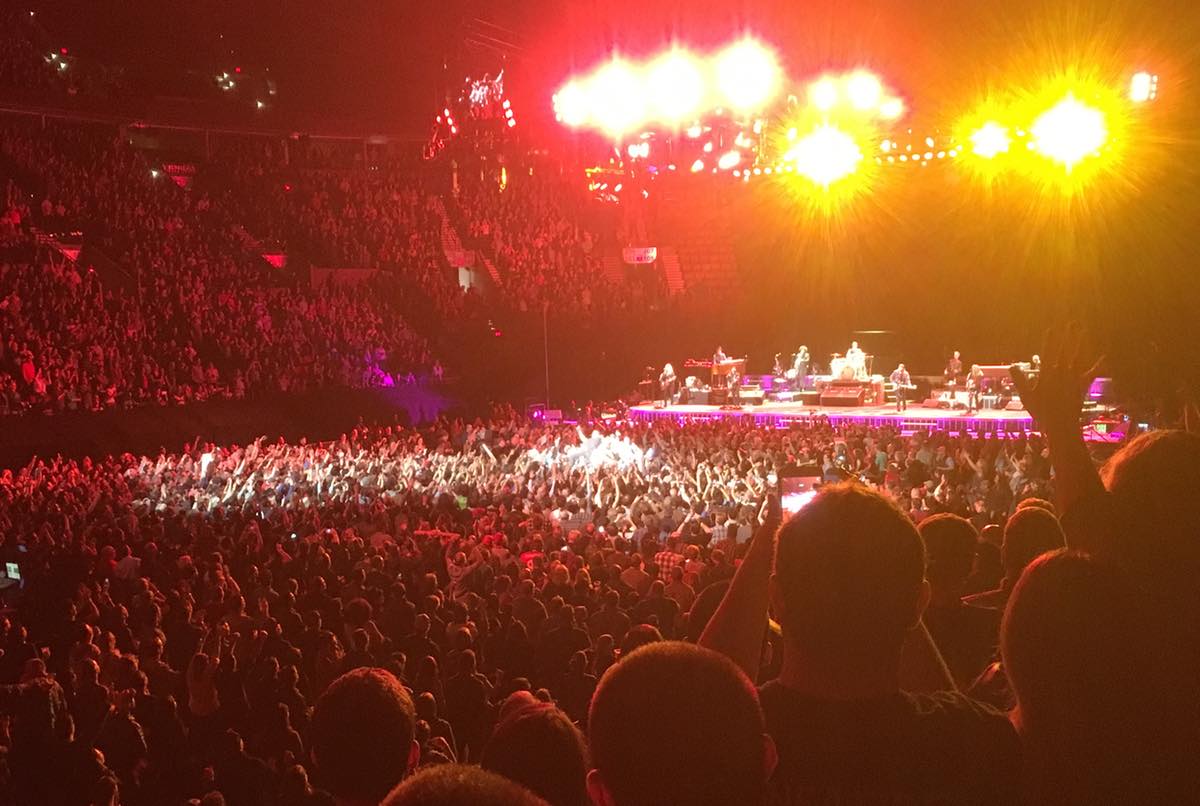 I wonder how his wife (Patti Scialfa; a member of the band for those who don't know) feels about all those hands? In any event, it was obvious that Bruce is in amazing shape, and that his energy level and joy in performing are just as strong as they've ever been.
The River
The show started promptly at 8pm, and as expected given this is The River tour, the first two hours were devoted to playing The River, complete and in order. This 1980 double-album release contains a number of classics; my favorites from last night were the stark and beautiful Independence Day, a wonderful rendition of The River, and an incredibly high-energy take on Cadillac Ranch.
This section of the show was great for me, but probably not my wife's favorite—while there are popular songs on The River, there are many that casual fans won't know. There is a nice mix, though, of slower and faster songs; the slower stuff gave the band (and the audience!) a chance to catch its breath.
The E Street Band was amazing as ever during the show, and especially during the high-energy pieces on The River. The majority of the band have been playing together for over 40 years, and their chemistry really shows. The newest member of the band, to me at least, was Jake Clemons on saxophone. He's been with the band for a few years, and is Clarence Clemons' nephew. And while he may not have his uncle's physical stature, he plays an excellent saxophone.
What really impresses is how much the band all seem to love and enjoy playing together, even after all that time. If they're just faking it, they're faking it very well.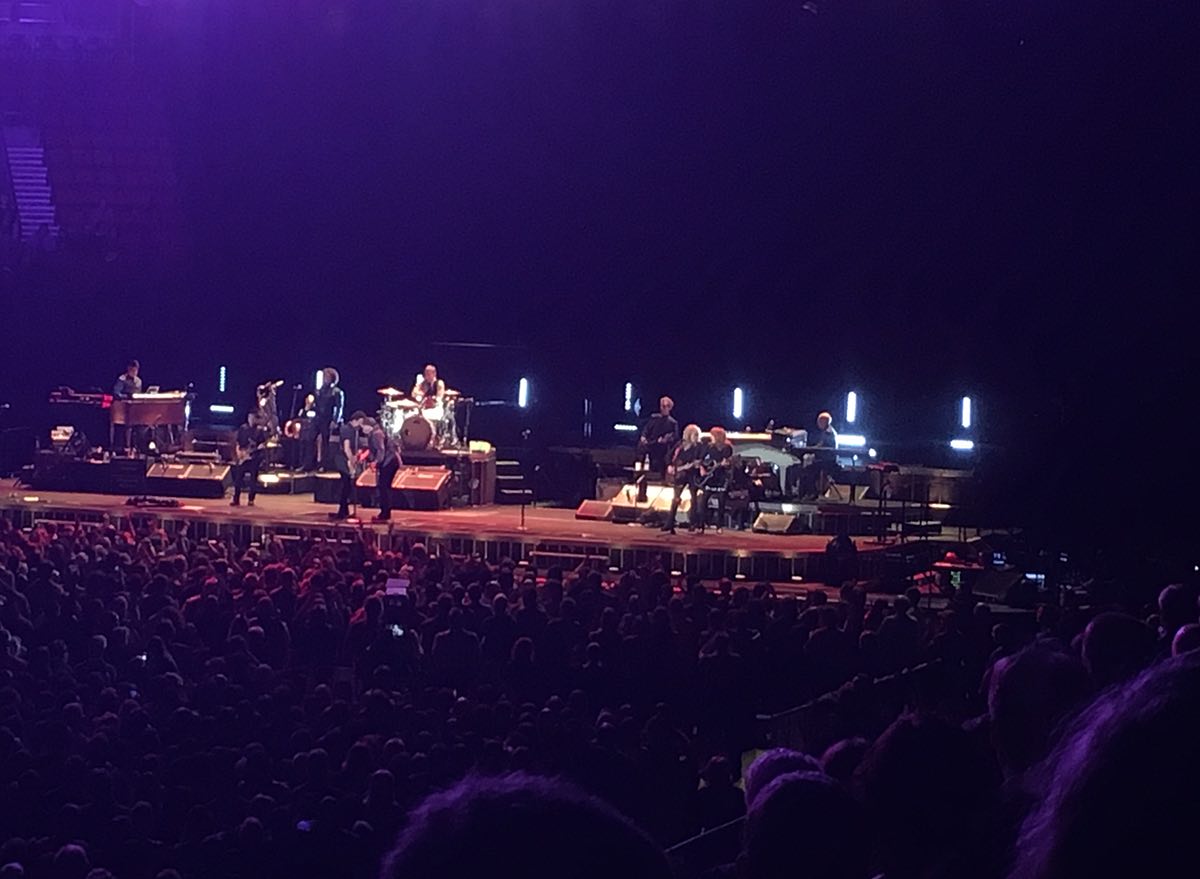 Speaking of faking it, to the best of my eyes/ears, there was absolutely nothing pre-recorded in last night's show. No lip sync, no looping audio, nothing. To me, live should mean live, and in this regard, Springsteen and the E Street Band really delivered. Contrast that with this review of another artist's performance, who appeared in the same venue just a couple weeks ago:
Agreed! Front row…Vapid expression, not even a smile, He was going through the motions and lip syncing the songs. He seemed to want to rush through the show. "Let's go" seemed to come from his mouth often, as if he was hurrying the band. Disappointing. I expected more from an "artist."
That "artist" would be Justin Bieber, whose show only ran 20 songs (versus 33 for Springsteen), and probably finished in 90 minutes or less. The youngsters could learn a lot by watching how Springsteen does his job: Not just smiling most of the time, but expressing what appears to be barely contained joy from performing for everyone. It cannot be easy to do this for 3.5 hours, night after night, but Bruce certainly makes it look so.
Vocals and Audio
Everyone's voice changes with age, and Springsteen is no exception—it's pretty clear he can't sing the high notes as he once did. But really, that's about all I noticed; he's still blessed with an incredibly strong voice, and the songs all sounded great. I especially liked the starker songs from The River, like Independence Day and Point Blank—his voice may have changed, but it's still incredible and stands well even in such vocal-centric songs.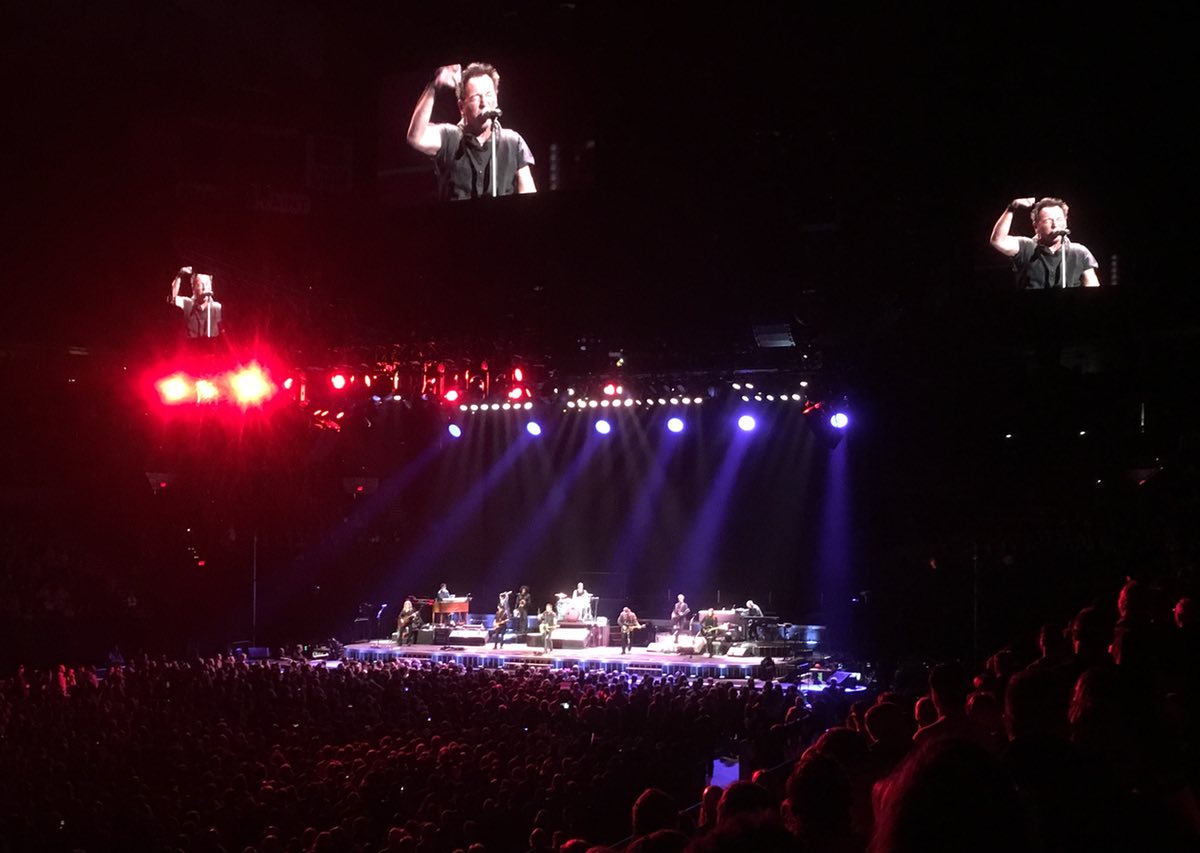 The sound system was very good—way too loud, as usual, but quite good. The bass and drums were nicely reproduced without any muddiness, the piano notes were clear, and the violin and sax sounded particularly nice.
The only issue I had with the sound—other than the volume level—was that Steven Van Zandt's voice had issues on a few songs. I'm not sure if it was tiredness (they've been on this tour a while now), or just that it's going, but there were some songs where he sounded almost shrill. Thankfully, this didn't happen often, as it was notable when it did.
After The River
As Wreck on the Highway came to an end, so too did The River portion of the concert. After a half-minute or so of raucous applause, the band launched into what might be an encore at a regular show. But given this portion of the event lasted 1.5 hours, it was more like "concert number two" than an encore.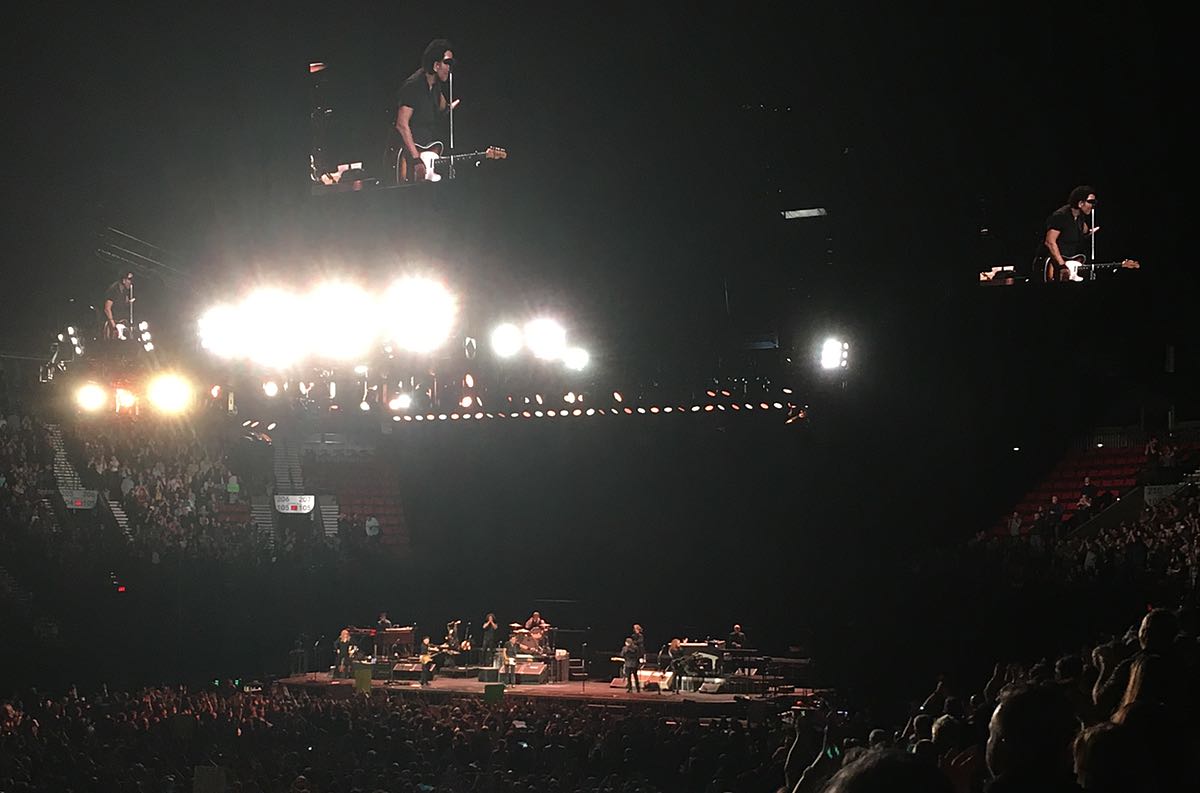 And unlike The River, which has a mix of fast and slow songs, this second concert was 100% hard-and-fast rock and roll. Bruce and the band launched with Badlands (from Darkness on the Edge of Town), performed in a real kick-ass upbeat manner. From there, a guitar change and a "one-two-three-four" led right into a harder-edged version of Lonesome Day (from The Rising). And it just kept going—rocking strong song after song, even for some that had originally been slower-paced tunes.
For instance, the original version of Brilliant Disguise is a moderately-paced introspective look at one's partner in a relationship (written during Bruce's brief and unhappy marriage to Julianne Phillips). But last night, it was a fast-paced hard-rocking song, sung with his wife on many key parts. Different, but very cool.
Other classics we heard during the second concert included Thunder Road, Born to Run, Rosalita, Dancing in the Dark, and 10th Avenue Freeze Out. During this song, which contains a Clarence Clemons-specifice reference ("When the change was made uptown, and the big man joined the band"), the video screen played a montage of Clarence images, in a nice tribute to a lost band member. (There were also some images of Danny Federici, another ex band member who passed away in 2008.)
After 12 back-to-back songs with nary a pause, the concert finished with a rousing rendition of The Isley Brothers' Shout, with multiple extended endings, as one might expect. But finally, it was over and time to head home.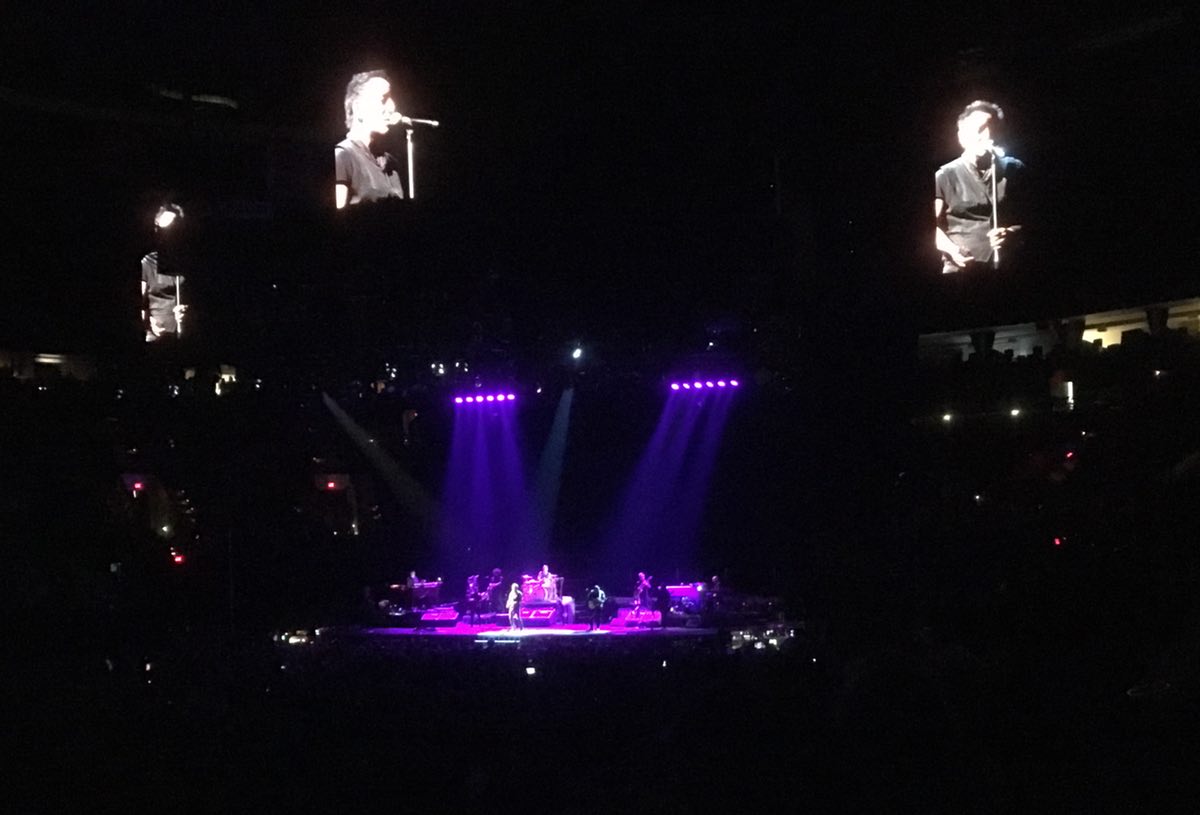 Wrapping it all up
This was not a cheap concert, but it's in line with other top performers. (And on a dollar-per-hour basis, it was much cheaper than a Bieber ticket!) But I'm quite glad we spent the money: I doubt I'll have a chance to see Springsteen again in the near future, and a show like this requires an incredible amount of energy. Even though he's in great shape, I can't fathom him doing a similar show in even five years' time.
So if you're a fan of Springsteen at all, and haven't ever seen him live, I suggest you find a way to get to one of the upcoming shows. The songs are amazing, the E Street Band is at the top of their game (Steven's minor voice issues excepted), and Bruce is, well, Bruce. It was a great show, and well worth every dollar we spent on it.