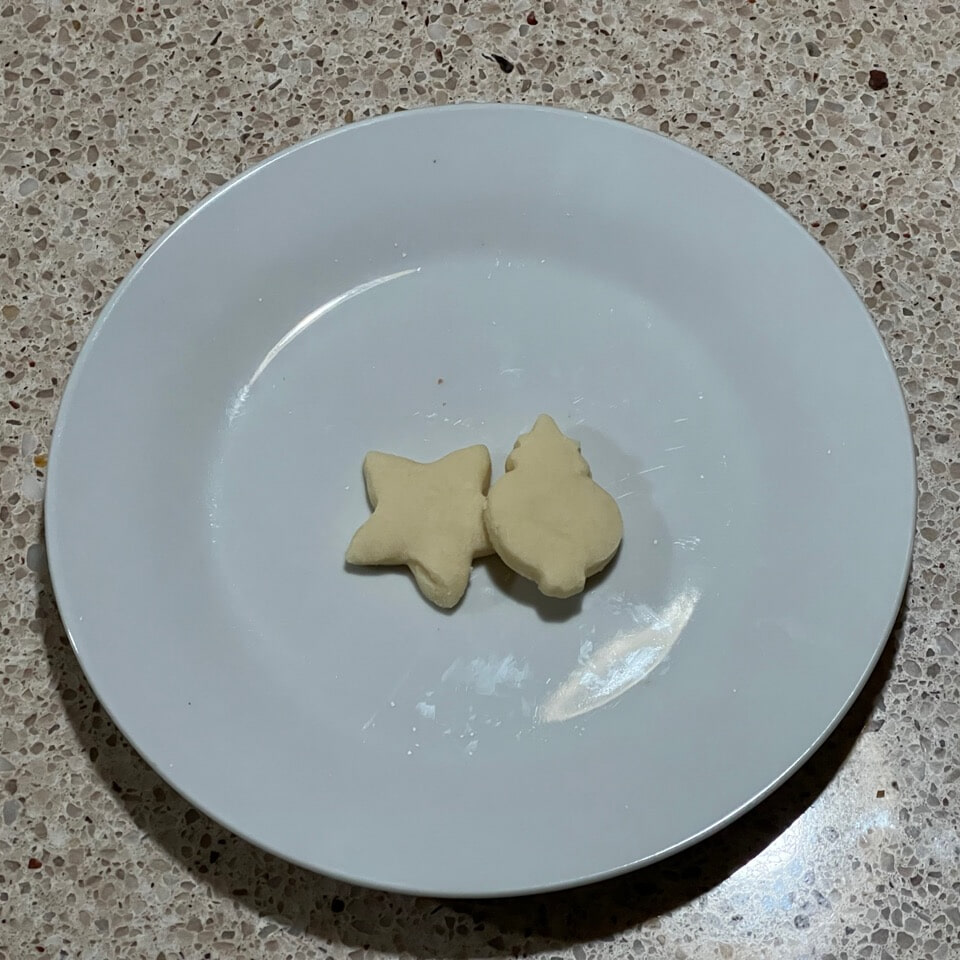 This dough can be tricky to work with, as it's quite dry, but it's worth the hassle—the resulting cookies are light and flaky and melt in your mouth.
Note: I never add the salt in any of these recipes; I've found I can't taste the difference, so I see no point in adding more sodium.
Load recipe in LoseIt: Shortbread Cookies
| Ingredient | Volume | Weight |
| --- | --- | --- |
| Unsalted Butter | 1 cup | 227 grams |
| Powdered Sugar | ½ cup | 60 grams |
| Vanilla | 1 teaspoon | 4.3 grams |
| All-purpose Flour | 2 cups | 250 grams |
| Salt | ¼ teaspoon | 1.5 grams |
Preparation and Notes
Preheat oven to 350F (177C).
In a bowl, combine the flour and salt and set aside. In your stand mixer (or a separate bowl with hand mixer), cream the butter, then add the sugar and beat until smooth. Finally, add and mix in the vanilla.
Gently stir in the flour and salt mixture until it's just incorporated. Flatten the dough into a roughly circular disk, wrap in plastic, and chill for at least an hour.
Line two light-colored baking sheets with parchment paper.
On a lightly floured surface, roll out the dough to about ¼ inch thick. Cut into rounds, or use cookie cutters to cut into shapes. Place on the papered baking sheets, and place in the refrigerator for about 15 minutes to firm up the dough. The cookies can be fairly tightly spaced, as they won't expand much when baked.
Bake for eight to 10 minutes, or until cookies are lightly browned (my preference is to get them out at the very first hint of brownness). Cool on a wire rack.