Given my background with it, and its role in leading to an unexpected but welcomed career change, I'm clearly a fan of OS X. But sometimes, I really question the quality assurance (QA) testing that goes into the OS and its associated applications. Consider the following glitch I ran into yesterday with Address Book.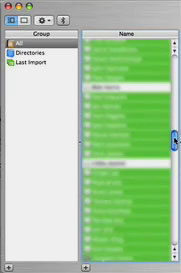 Now granted, I don't run Address Book directly all that often--I usually just use it via Mail and the other programs to which its connected. But yesterday, I was trying to do something with my nearly my full contact list when I ran into a problem (not fatal to the task, but highly annoying). Here's the problem: Address Book fails to save the scroll thumb location when unselecting entries from the Names list--but only when you're unselecting entries from anywhere other than the first or last screenful of the list.
That actually sounds quite confusing, so I thought I'd demonstrate with a short movie. Click the image at left for a small version (182x174, 188KB) of the problem demonstration, or you can view the full-size version (364x548, 976KB) if you prefer. The clip first shows how unselects should work, by positioning the thumb at the top and the bottom of the list of names. It then shows what happens when the thumb is elsewhere.
To recreate the problem on your Mac, just follow these simple steps:
Launch Address Book, click on any entry in the Names column, then hit Command-A to select all the names.
Move the scroll thumb somewhere towards the middle of the list.
Hold down Command and click any one name. Watch the scroll thumb leap back to the top of the list.
Repeat ad infinitum.
As I noted, this isn't a fatal bug--it just makes it much tougher to deselect a number of names after selecting all. The bug also doesn't occur if you're simply selecting names from the middle of the list; it's only when you're deselecting (though it doesn't have to be from a Select All).
The bigger question is why do we see these types of glitches in many OS X programs? I probably launch Address Book about once a month, and yet it took only one relatively simple task to reveal a fairly obvious problem--how come a QA team didn't spot it long before the program ever left the development lab?