Last winter, our family decided we'd head to Washington, DC for our summer vacation. With our kids being 11 and eight, we figured they'd be old enough to appreciate some of the history and sites in the area. One thing I remembered from my youth was a White House tour, and I thought it'd be fun to take our kids on the same tour.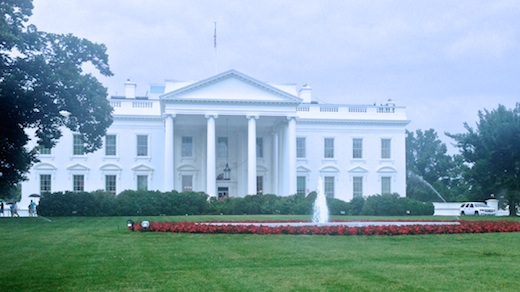 Needless to say, things have changed quite a bit since I toured many decades ago. I don't recall the setup details from my youth (as my parents handled that), but I assume security was somewhat less stringent.
For those interested in possibly taking a tour themselves, here's how it worked for us…
In late January (six months before our trip date), I wrote our congressman requesting a tour. (Our Senator's web site includes a request form; I assume others would as well.) A return email explained that we would find out if our tour had been approved potentially as late as a week before the tour date. Zoiks.
Then we waited. And waited. And waited. Eventually, though, we did get our tour approved—14 days before departure. While the time wasn't ideal (7:30am!), it was nice to get the tour at all—apparently they receive over 10,000 requests per day, and can accommodate about 3,500 on a typical day!
On tour day, you really can't bring much of anything with you. You can carry a cell phone, but it basically has to stay in your pocket. No cameras, no backpacks, no fanny packs, no food/drink, no strollers, no pointed objects, etc. There are also no lockers, so if you do bring a prohibited item, you're either not going on the tour, or you're trying to find a tree or a bush in which to stash your Canon EOS 1D Mark III—probably not a good idea!
We arrived 15 minutes early, and found ourselves in a group of about 50 to 75 people. It was then I realized that our tour approval email included the instructions "Please print the attached PDF and bring it with you on the day of the tour." Me, being a "why print what you can carry in the phone?" kind of guy, had done no such thing. Uh oh.
Thankfully, a park ranger said that the paper really wasn't required, as long as we had IDs. Sure enough, when we got to the first checkpoint, all they asked for was our names and our picture IDs. They then checked our names against "the list," and we were allowed to go on.
At the second checkpoint, which was all of maybe 150 feet from the first, we again showed picture IDs and had our names checked against the list. This let us get to the third checkpoint, where we walked past a German Shepherd that was sniffing for who knows what. Once clear there, it was through the metal detector, and into the White House itself.
All told, the security process was handled smoothly and professionally. It went relatively quickly, though it still took about 25 minutes to get our family into the White House.
Once inside, there's a fair bit to see—historical photos line the entrance hall, and some of the artwork is simply stunning. Beyond the entrance hall, the tour is fairly limited; you see a few rooms on the ground and main floors, then you're out and done—no West Wing, no Rose Garden, etc. We spent about 30 minutes inside the White House itself.
When it was all done, I'm glad we did it, even though our youngest really didn't appreciate what she was seeing. The older one, though, had a good sense of the history of the place, and will remember the tour for years to come.
If you're going to be in DC (and you're a US citizen; tours for foreigners are possible, but must be arranged through your embassy), I highly recommend the tour. There's an amazing amount of history in the building, and seeing it in person is so much more engrossing the reading about it in a book or online.