A friend emailed me a link to a Craigslist posting of a Tesla for sale, asking what I thought…on first glance, I thought "Whoa, what a bargain!" Here's how the ad looked, in case it vanishes: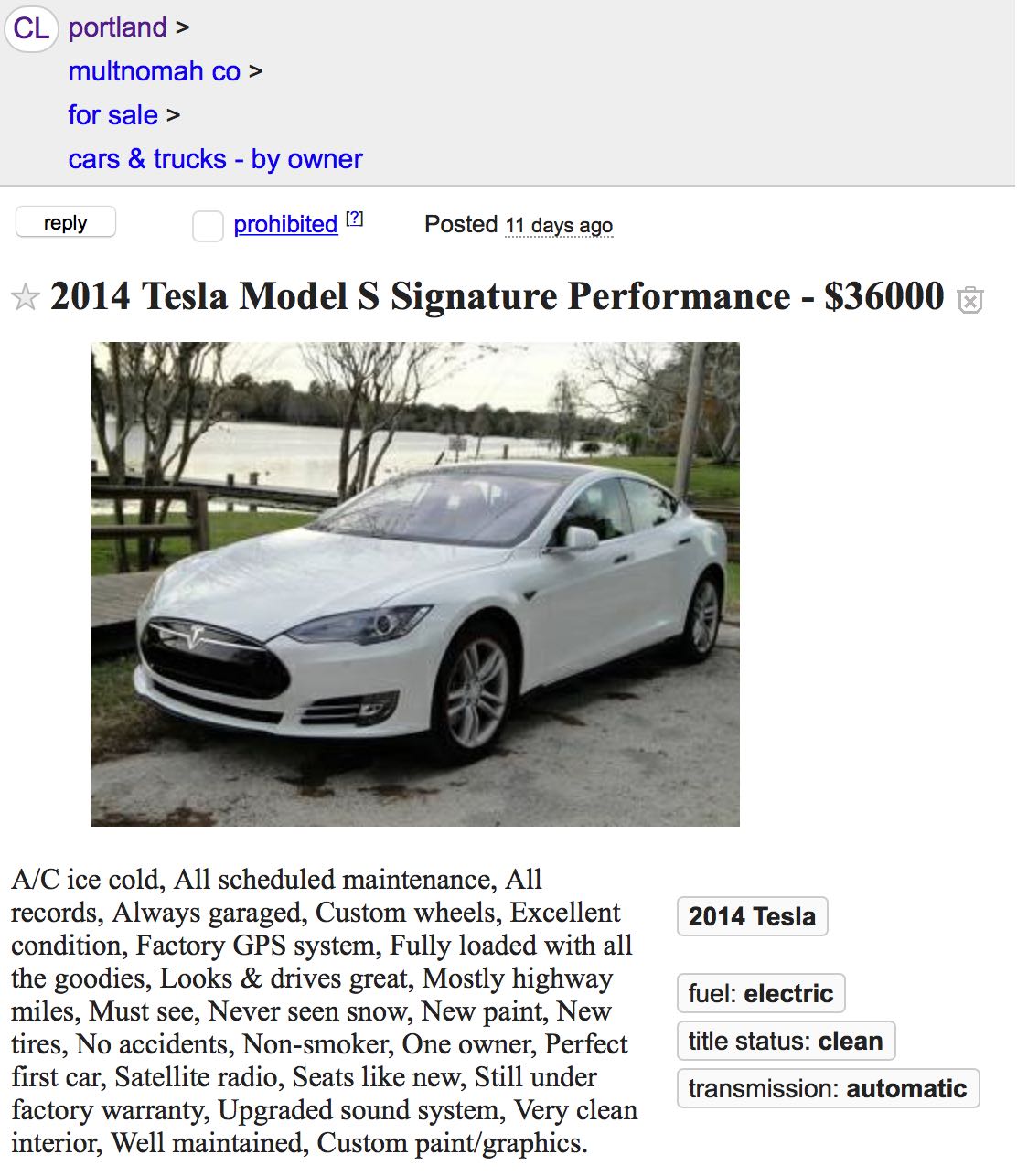 Of course, on second glance, I realized it had to be a scam—the value of a 2014 Tesla Performance (85KWh battery with the Performance option) should be at least double the $36K asking price in that advert.
I thought I'd do just a bit of research and show my friend that it was a scam; I searched for "2014 Tesla Model S Signature Performance," and the very first (non-advert) hit was this AutoTrader ad, selling the same type of car for $79K. The description in AutoTrader seems familiar somehow…
A/C ice cold, All scheduled maintenance, All records, Always garaged, Custom wheels, Excellent condition, Factory GPS system, Fully loaded with all the goodies, Looks & drives great, Mostly highway miles, Must see, Never seen snow, New paint, New tires, No accidents, Non-smoker, One owner, Perfect first car, Satellite radio, Seats like new, Still under factory warranty, Upgraded sound system, Very clean interior, Well maintained, Custom paint/graphics.
The Craigslist ad's description (as well as the picture) was clearly copied from this legitimate ad. That was perhaps the quickest scam-find I've ever pulled off. (Yes, I've reported the ad to Craigslist.)
I've bought a lot of stuff off Craigslist, but never a car. I wouldn't hesitate to do so, though, as long as I could meet the seller in person to see and drive the car.
However, if you were to try to buy this bargain-priced Telsa, you'd probably hear something like "The car is actually in Seattle, but I can have it trucked down for you to inspect before buying. I just need $2,000 sent to Western Union for the transportation, and then you can decide to buy or not once you see it in person."
Be careful out there, people!