[The first in a series of recommendations for older perhaps not-so-popular movies that I found enjoyable, and that you may as well.]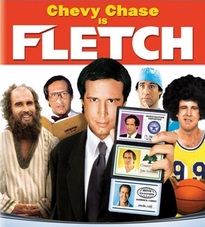 During his long career, Chevy Chase has been in lots of movies…including lots of really bad movies.
Fletch (1985), however, is not one of the bad ones.
It may not be his greatest movie, or even his second greatest movie, but I think it's got a solid hold on third place.
Many of you reading this probably weren't born when it came out in 1985, or were way too young to have seen it at the time. If so, and if you haven't seen it since, well, you're missing out on what has to be the funniest "newspaper reporter as undercover druggie selected for murder-for-hire scheme which turns into something much bigger" movies ever made. OK, so it may be the only entrant in that category; it's still funny.
Chevy Chase plays Irwin "Fletch" Fletcher, who writes an anonymous column on various subjects for a Los Angeles paper. While undercover investigating drug dealing on the beach, he's offered $50,000 to kill an apparently-healthy, and very wealthy, man.
Suspicions aroused, Fletch starts digging, and what he finds takes him to an upscale country club, to police headquarters and prison, and to and from Utah (a couple of times). The plot line is tenuous (at best), but Chevy Chase carries the movie (yes, I said that) through a series of funny scenarios, improbable disguises, and seemingly ad-libbed dialog. Be warned that if you don't like deadpan, sardonic humor (i.e. Chevy Chase), you probably won't like this movie.
The movie is filled with great one-liners, visual gags, and the cast includes George Wendt (then just three years into Cheers) and Geena Davis (in only her second movie role). There's also a brief but fun cameo from Kareem Abdul-Jabbar, recreating his most-famous movie role.