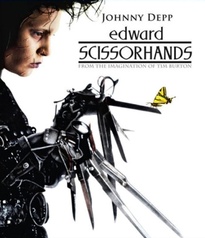 Edward Scissorhands (1990) is a different take on the classic Frankenstein story line. In this variation, an inventor creates a being (Edward), complete and ready to function, with the exception of a pair of hands. As a temporary measure (I'm not sure 'why' is ever revealed), the inventor attached multiple scissor-like blades to each arm of his creation. Unfortunately, the inventor died before he could finish the hands, leaving Edward with blades where his fingers should be.
Edward lives alone in an old mansion on the hill, until an Avon saleswoman (Peg) comes calling. He is then brought into 1960/70s suburbia, as Peg takes pity on his situation and basically adopts him. Edward becomes immensely popular due to his ability to sculpt hedges and bushes, and for his incredible skill at cutting hair. He's also attracted to Peg's daughter Kim, who seems capable of seeing the person behind the blades.
But trouble lurks with Kim's boyfriend Jim, who dislikes Edward. Eventually, Edward winds up accompanying Jim, Kim, and others in a robbery, and winds up arrested. More troubles follow, and, well, you should watch the movie to see what happens.
You'll recognize many stars among the cast, starting with Johnny Depp in one of his earliest big-screen appearances; his range of facial expressions is astonishing and really helps convey the complexity of Edward. Dianne Wiest plays Peg, the career-oriented Avon sales woman, and Winona Ryder plays her daughter Kim. Alan Arkin, Anthony Michael Hall, and Vincent Price as the inventor (in his final big-screen appearance) also have key roles.
While the basic story line is familiar, Tim Burton's direction and the amazing 1960s/70s pastel colored set and costumes give this movie an entirely different feel. Watch it, and you'll have a whole new appreciation not just for your fingers, but for the relative nothingness of the nicks you give yourself while shaving.